Encoursa LLC the owner of Encoursa.com (referred to below as "Encoursa" or "Website") adheres to the policies outlined below.
y registering for an Encoursa account ("User"), or attending a course ("Course Attendee") you are agreeing to the following Encoursa privacy policy and associated Terms and Conditions, of which this document is included. Please contact us if you have any questions about any of our policies.
Encoursa has developed this privacy policy to respect the User and Course Attendee privacy on its Website. The purpose of the Encoursa privacy policy is to explain the types of information Encoursa obtains about its Users and Course Attendees, how the information is obtained, how it is used, how it may be disclosed to others, and how others can restrict its use or disclosure.
Personally Identifiable Information
The only personally identifiable information Encoursa obtains about its Users and Course Attendees is voluntarily supplied by the User or Course Attendee. Users and Course Attendees interacting with the Website or attending a course may provide Encoursa their name, address, telephone number, company name, email address, domain name or URL or other personally identifiable information that Encoursa may use for its own business purposes. In order to access the Website features or attend a course, the user must provide this information.
Using the Information
Encoursa does not sell, rent, or lease its customer information to unrelated third parties. Encoursa does reserve the right to share registration data, including user contact information, with a third party course presenter or content provider for an Encoursa program. Encoursa is not responsible for any actions such third parties may take with respect to such registration data. All transactional information relating to the purchase of a course (such as cardholder account numbers) is never shared with third parties. In general, Encoursa reserves the right to use User and Course Attendee personally identifiable information in the following ways:
To communicate with you about your account or the Encoursa Website.
To provide to third party course presenters to communicate with you about your experience attending their training program or other products or services mentioned on the training program.
To support the operation of the Encoursa Website (billing, account maintenance, troubleshooting, etc.)
To send you newsletters, promotional messages, product announcements, or other communications that we feel may be of interest to you, although you may opt-out of receiving these communications (see "opting out" below).
In other ways that you either expressly consent to or instruct us to undertake.
Opting In
By registering for an Encoursa account, you are a User that is choosing to opt-in to our mailing list in which we will use to notify you, from time to time, of upcoming courses and promotional offerings. We will occasionally promote products or services offered by the Encoursa presenters and partners if we feel that they could be of value to you or your Company.
Opting Out
As part of the webinar registration process, you will supply us with your name, email address, city, state, country, and other personally identifiable information. You will be registered to receive periodic communications from Encoursa or from other reputable companies affiliated with Encoursa. If you do not wish to receive such communications from Encoursa, you can:
Opt-out of receiving future emailed messages by following the "unsubscribe" instructions at the bottom of any emailed message you receive from Encoursa.
If you receive communications from Encoursa by regular mail, you can opt-out of receiving future such communications by contacting Encoursa by writing to Encoursa at: 3424 Chicago Drive #201, Hudsonville, MI 49426
You may not opt-out of communications from third parties through Encoursa. Opting out of third party communication requires you follow the opt-out directions provided by the third party communication.
After opting out of the Encoursa promotional communications as described above, please allow up to 10 days for your opt-out election to take effect. Please note that even if you opt-out of receiving the types of communications described above, we may still, from time to time, communicate with you about your account or operation of the website; these communications will not be promotional in nature. For example, if our service is temporarily suspended for maintenance we might send users an email. You cannot opt-out of receiving these communications.
Cookies
We use cookies to record session information only, such as courses that users select to take.
Non-Personally Identifiable Information
Encoursa does collect and utilize some non-personally identifiable generic information about Website users as a way to measure the traffic and effectiveness of the Website. Encoursa collects generic information in the normal course of operation but such information does not reveal a user's personal identity. Encoursa collects this data to identify traffic trends and improve the Website and to provide targeted information that may be of interest to the users of the Website.
Disclosure Pursuant to Legal Process
Encoursa shall, pursuant to applicable law, regulation or legal process, such as a search warrant, subpoena or court order, allow access to all available and relevant information in order to comply with such process and protect Encoursa's rights and property. Encoursa may also allow access to this information in special emergencies where physical safety is at risk.
Other Partner Websites
Encoursa is committed to protecting user privacy on all Encoursa affiliated Websites and expects the same from its partners, co-sponsors, and suppliers. Encoursa, however, is not responsible for the content or the privacy practices of non-Encoursa websites, including websites reached through a link on an Encoursa Website. Other websites may have different privacy policies, or no policy. Users should review the privacy policies of any website before providing personal information.
Should Encoursa modify its practices regarding the collection or use of information obtained from users in the future, this privacy statement will be amended to reflect such modifications.
Legal Statement
Should Encoursa modify its practices regarding the collection or use of information obtained from users in the future, this privacy statement will be amended to reflect such modifications.
NASBA Sponsor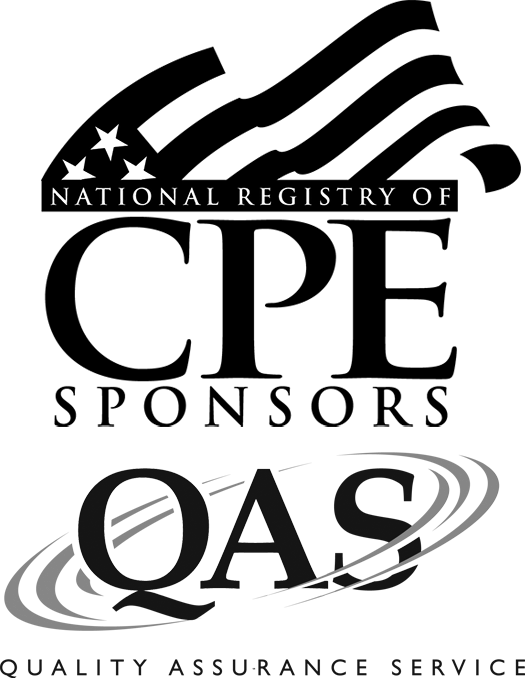 Encoursa is registered with the National Association of State Boards of Accountancy (NASBA) as a sponsor of continuing professional education on the National Registry of CPE Sponsors. State boards of accountancy have final authority on the acceptance of individual courses for CPE credit. Complaints regarding registered sponsors may be submitted to the National Registry of CPE Sponsors through its website: NASBAregistry.org.