About Us
Encoursa is an industry-leading provider of continuing education offering live webinars and a robust library of premium on-demand (self-study) training. Encoursa also partners with innovative providers of industry solutions to offer sponsored webinars. Our courses feature action-oriented objectives designed to help our community of accounting and finance professionals build and grow a dynamic skillset. If you are interested in partnering with Encoursa, please reach out to us through our contact form.
Mission Statement
Encoursa is committed to helping accounting and finance professionals develop personally and professionally through continuing education.
Our Story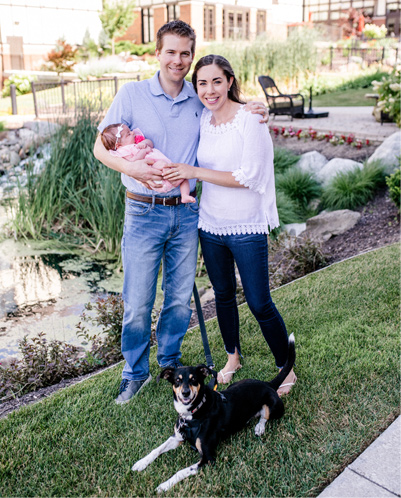 Like many other CPA couples, Liz and Matt met while working long hours together in public accounting. Matt likes to joke that they fell in love over calculators. After spending the early part of their careers at PwC, they both planted roots locally in Grand Rapids, MI and transitioned into corporate finance roles. Continuing education remained an important element of their careers, however, they recognized they now had more autonomy in choosing their learning experiences.
Liz sought continuing education as a tool to differentiate her skillset and advance her career. However, these trainings often required large budgets and a significant amount of time away from home and the office. Liz found that the online options came with a lackluster user experience, and while the content "checked the box," it was often uninspiring.
In his corporate finance role, Matt quickly noticed that most of his co-workers wanted to pursue continuing education, but became so frustrated with their online experiences that they eventually let their professional licenses go inactive. However, Matt wasn't ready to let his CPA license lapse or give up on continuing education. It was at this point that he recognized a need in the industry for a better online experience.
Encoursa was created to provide ambitious professionals with progressive online education and an exceptional learning experience. Behind the scenes, Encoursa's exceptional technology partners make this possible.
Matt and Liz are building their family alongside Encoursa. They welcomed a daughter this past summer and have a much-loved rescue dog.
We are honored to be part of your continuing education journey!
NASBA Sponsor
Encoursa is registered with the National Association of State Boards of Accountancy (NASBA) as a sponsor of Continuing Professional Education (CPE) on the National Registry of CPE Sponsors. Boards of Accountancy have final authority on the acceptance of individual courses for CPE credit. Complaints regarding registered sponsors may be submitted to the National Registry of CPE Sponsors through its website: www.nasbaregistry.org