The Magic of Listening
By

Liz Briggson

October 14th, 2021
Branching out to explore the realm of communications, Nancy Wu delivered some amazing insights about listening skills AND one culprit that causes the opposite of listening, the oft experienced, yet rarely discussed Amygdala Hijack.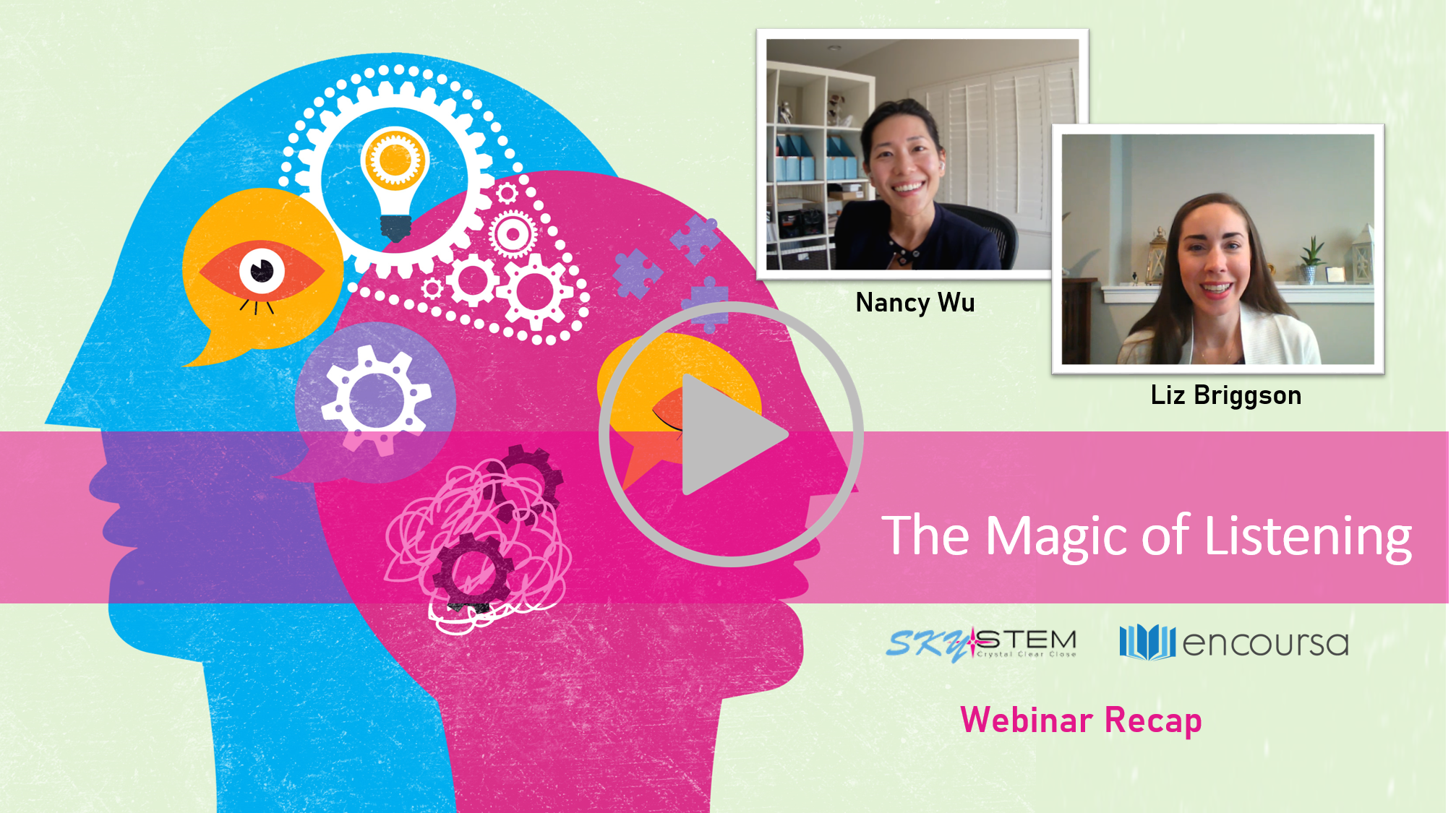 We recapped the webinar and wanted to share with you some tips for recognizing this phenomenon and also how to help others handle this experience in group settings. Check it out!
The full webinar recording is available on Vimeo. And of course we'd love for you to join us for one of SkyStem's upcoming webinars led by Nancy Wu.
The upcoming schedule can be found right here: https://encoursa.com/companies/skystem
For additional take-aways, here are 8 Tips for Good Listening:
1. Be Aware of Timing of Questions
2. Ask Questions to Ensure Understanding
3. Ask Clarifying Questions to Add Value
4. Give the Speaker Regular Feedback
5. Keep an Open Mind
6. Don't Go on the Defensive (aka avoid the Amygdala Hijack)
7. Try to Feel What the Speaker is Feeling
8. Pay Attention to Non-Verbal Cues
About SkyStem
Headquartered in the heart of New York City, SkyStem delivers a powerful month-end close solution for organizations seeking to streamline their financial processes. The company's flagship solution, ART, is an enterprise technology that helps CFOs and Controllers shorten the month-end close and the time to issue financials by automating balance sheet reconciliations, managing month-end tasks, performing flux / P&L variance analysis and providing insightful reporting. The web-based solution streamlines and eliminates up to 90% of manual activities while strengthening internal controls and corporate governance.
Visit https://skystem.com/ to learn more.
Listening

communication

conversation