Your Guide to Selecting Financial Software with SkyStem
By

Liz Briggson

January 25th, 2021
Many companies often commence their search for a new software solution at the beginning of the year. Budgets are full and optimism is high. Yet for many finance and accounting leaders, the process to identify the RIGHT solution can appear daunting.
Nancy Wu, Head of Sales and Customer Success with SkyStem, recently led a one-hour webinar providing a "Guide to Selecting Financial Software." We thought it would be helpful to recap the highlights for anyone looking for a starting point.
Once you recognize the time has come to upgrade your existing software or add a new solution to your tech stack, the important work of identifying the right solution begins. Many of our webinar guests shared that they are looking for a new ERP system this year. Nancy's advice applies to finding any type of software, whether it be an entire financial reporting system or a solution to help streamline your month-end close.
The identification process naturally begins with gathering a list of vendors. You may want to ask colleagues and peers for their suggestions and consult a web search engine to generate your initial list. Perhaps you attended a conference previously and saved materials from a specific vendor with "someday" in mind. Once you have your initial list, vetting the companies using a review site like Capterra can help you narrow down the list. Capterra's review database has close to 1.5 million user reviews of a broad array of software programs. You can see stats and read detailed reviews highlighting the pros and cons of each application.
Now that you have your freshly narrowed list of vendors, you will want to reach out to each company for an initial discussion. Nancy suggests paying close attention to customer service early on in the sales process. How quickly did you receive a response to your initial inquiry? This can tell you a lot about a company and how you can expect to be treated as a customer. If you like what you hear and experience, it is time to move forward with a product demo. Scheduling demos with 3-5 companies provides helpful coverage and perspective.
A product demo can tell you a lot about the company beyond showing you the capabilities of their software. Nancy recommends creating standard evaluation criteria and paying attention to the following characteristics of a demo:
Who conducts the demo? A demo with a technical expert is superior to one with a general sales rep, in that a technical expert can better understand your requirements and answer your specific questions.
Is the demo conducted live in the software or does it consist of a PowerPoint presentation? Clearly a presentation-based demo is cause for concern as it shows the rep's lack of knowledge of the system's capabilities and/or the lack of trust in the system's performance.
Is the company transparent with their pricing? Beware of complex pricing scenarios or variable pricing structures that involve unknowns.
Evaluation criteria may vary by software type. During the demo, you will want to ask questions to gain insight into the criteria most important to you. Below you will see an example evaluation: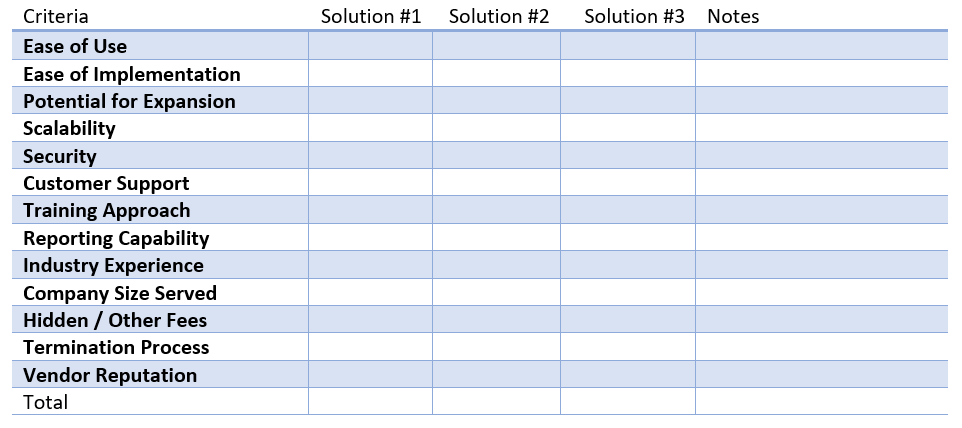 You can score the evaluation criteria by rating each solution on a scale of 1-5 for each criterion and totaling the ratings for each solution. If you choose 5 as the best score, then the solution with the highest rating becomes the leader.
Buying financial software is a significant undertaking. By following a structured process, you can be confident in your decision-making process and that you have selected the right solution for your team.
If you are considering implementing a month-end close solution to help automate and streamline month-end close, join us for SkyStem's webinar on February 23: Live Demo: Supercharge Your Month-End Close
About SkyStem
Headquartered in the heart of New York City, SkyStem delivers a powerful month-end close solution for organizations seeking to streamline their financial processes. The company's flagship solution, ART, is an enterprise technology that helps CFOs and Controllers shorten the month-end close and the time to issue financials by automating balance sheet reconciliations, managing month-end tasks, performing flux / P&L variance analysis and providing insightful reporting. The web-based solution streamlines and eliminates up to 90% of manual activities while strengthening internal controls and corporate governance.
Visit https://skystem.com/ to learn more.